The Arizona Wildcats had just lost their sixth conference game of the season this time last year with their tournament hopes slowly fading away. Today, just a year later, Arizona women's basketball has one of its best seasons in recent history, finishing No. 12 in the nation with a record 18-3 and a perfect 7-3 in conference play.
Arizona has not been to the NCAA tournament since 2005, but that wasn't the last time that the Wildcats saw postseason action. The UA hosted and won the Women's National Invitation Tournament Championship last season and played in front of a sellout crowd of 14,644 fans in the final game, turning the program on its head and putting the women's basketball team on the map. That, of course, was the start of something bigger.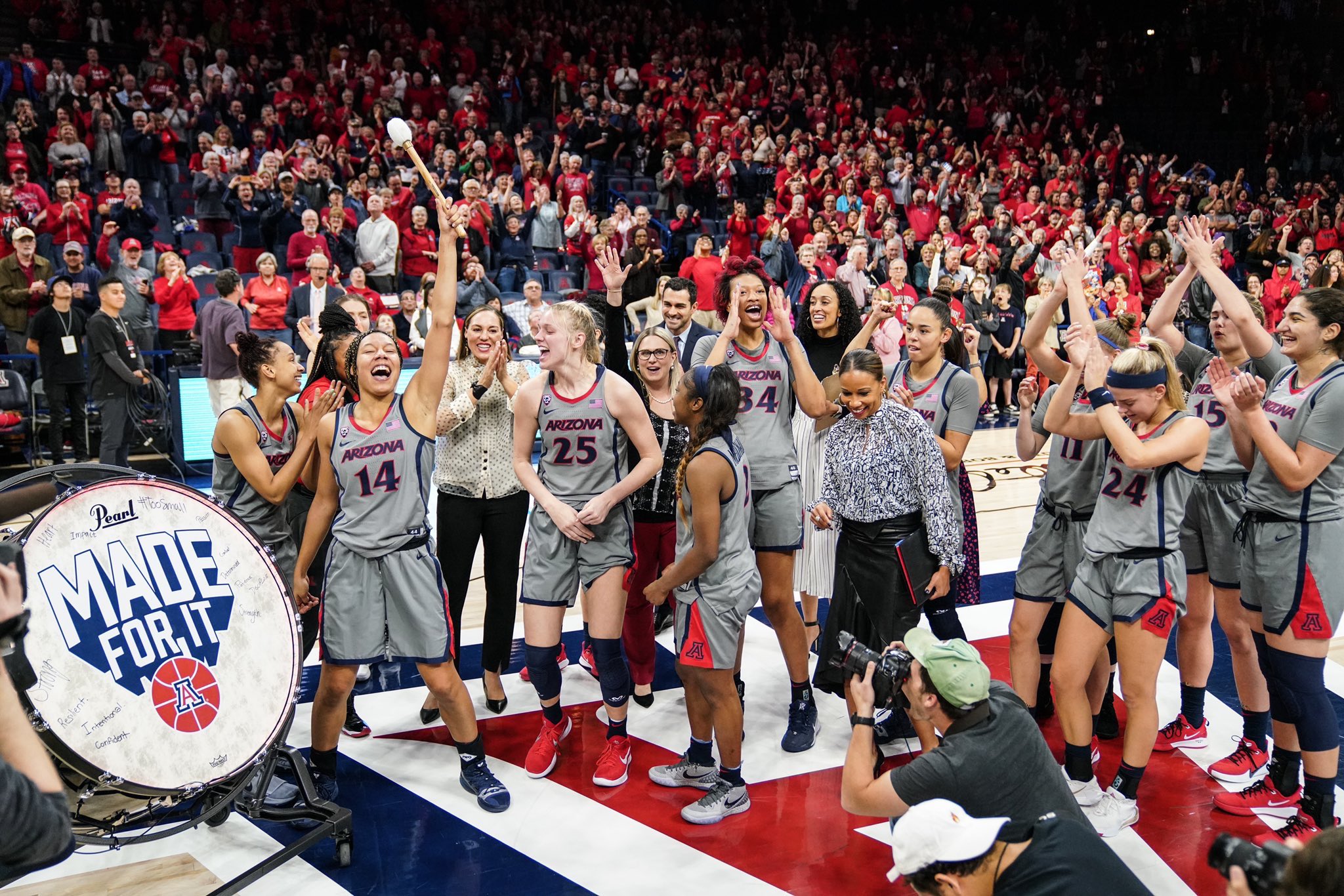 The Arizona Wildcats opened up the 2019-20 season 14-0, including a road win over rival ASU. Point-guard Aari McDonald and forward Cate Reese combined for 37 points in the 58-53 win, but nobody had taken them seriously yet.
Then, on Jan. 24, Arizona would do it again in front of 10,160 fans in McKale Center and defeat then No. 16 ASU. But still, Arizona women's basketball was not seen as a legitimate threat to compete in the postseason.
Then there was last Friday. The Arizona Wildcats returned home after sweeping their weekend series against the Washington schools. The matchup against the formerly-ranked No. 8 UCLA Bruins was made out to be one of the most important games of the season for the Wildcats.
Arizona did not shy away from the competition as the squad ran UCLA out of the arena in a 92-66 statement win. McDonald led the charge by scoring 27 points and five rebounds. Junior Sam Thomas also had an outstanding game, going flawless from beyond the arc by hitting four 3-pointers for 12 of her 20 points on the night, giving Arizona its first win against a top-10 team since 2004.
After finishing the weekend with a victory over USC, the team now sits comfortably in tournament predictions. The NCAA Division I Women's Basketball Committee has provided us with their first predicted top-16 teams for the NCAA tournament 2020. Arizona checked in at No. 13 putting them into the tournament's No. 4 seed. This will also mean the Wildcats have been playing their first NCAA tournament game since 1998.
This is Barnes' fourth year as Arizona's head coach after serving as an assistant coach at the University of Washington for five seasons. Barnes is a UA alumna and is also the leading scorer in Arizona women's basketball history. Her passion for the school runs deep, and her mentality of transforming the team into a winning program has trickled down to the players.
"I think we all came here wanting to change this program around and keep leaving our mark," said senior Dominique McBryde. "That's our brand — "Leaving a — so I think we're doing a good job of that. We really want to leave our mark, not just from the WNIT but to keep going."
Cate ranks 6️⃣th in school history with 15 double-doubles.

1. Ify Ibekwe – 55
2. Shawntinice Polk – 46
3. @AdiaBarnes – 36
4. Amina Njonkou – 19
Dana Patterson – 19
6. @cate_reese – 15 https://t.co/WFXgjYvPwB pic.twitter.com/JfjND4ndNc

— Arizona Women's Basketball (@ArizonaWBB) May 5, 2020
The expectations for the team are starting to change with word finally spreading outside of Tucson about how good this team is. Despite the outside noise, Barnes still believes the team is in a good spot this season.
"I think we're in a good situation, we control our own destiny," Barnes said. "Next week we have nothing to lose, I just told the players. We go to Oregon, we're not supposed to win at Oregon. If we got a sweep, it's incredible. If we got a split, it's incredible. If we didn't, it's not the end of the world. We're still in a good situation."