Happy birthday, MS Dhoni: The only captain in cricket history to win all the ICC trophies is celebrating his 39th birthday today.
Former India captain Mahendra Singh Dhoni celebrates his 39th birthday on Tuesday. In his stellar career, MS Dhoni has left a mark in the world of cricket that will shine for years to come. Dhoni has played 90 Tests in which he amassed 4,876 runs at an average of 38.09.
He has also played 350 ODIs in which he has scored 10,773 runs at an average of 50.57. Dhoni, formerly known as 'captain cool' during his captaincy days, has also played 98 T20Is for India in which he has scored 1,617 runs at an average of 37.60.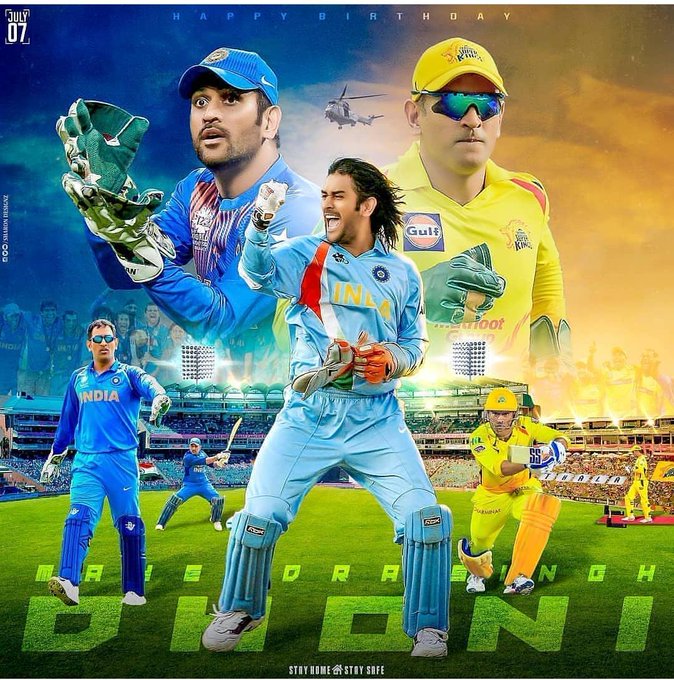 Though at the start of his run in the Indian Team Dhoni encountered some initial hiccups, his 148 against Pakistan in Vizag in 2005 showed the world the potential he possessed. But that was just the start of the hurricane.
A few years back, Dhoni led India to the ODI World Cup and the hopes were strong with the cricket 's biggest tournament being played at home. Although he did not have the best of tournaments as a batsman Dhoni, he still believed in himself and made the call for himself in the final to promote the batting order over Yuvraj Singh. The decision once again proved right, like Dhoni, the best finisher of the Indian Team.
Dhoni's record as captain has also been remarkable in the Indian Premier League, as he has led Chennai Super Kings to three titles over the years. In addition to his batting prowess and captaincy history, over the past decade, Dhoni has also been one of the world's best wicketkeepers.
Happy Birthday to Our Dearest Thala #MSDhoni 😍😎 #KING 🔥#Captaincool #csk #India @msdhoni #HappyBirthdayDhoni #mahendrasinghdhoni #HappyBirthdayMSDhoni #Dhoni ♥️ pic.twitter.com/IQNDroWOu5

— IndiaGlitz – Tamil (@igtamil) July 6, 2020
He redefined tactics that would trigger lightning-quick run-outs and stumps. But as he remains focused on his duties of keeping, at all times, his thinking mind is always glued to what happens in the game. For this reason, he was also one of the most successful players to make DRS calls from behind the stumps. Perhaps, this is why the fans on social media have now termed DRS as the 'Dhoni Review System'.
Here are the best tweets from the fans below:
Six not counted bcoz of the spidercam and then whacked the next ball. The smile after that 😍.#MSDhoni
#HappyBirthdayDhoni pic.twitter.com/1NlZEaJMPr

— M E G A P O W E R S T A R™®© (@rsjamouli) July 6, 2020
Many happy returns of the day to our ace cricketeer #MSDhoni who has done the nation proud on the cricket field and has brought cheer to his innumerable fans and sportspersons. Let this be an occasion to celebrate excellence everywhere @msdhoni #HappyBirthdayDhoni pic.twitter.com/yJ6Py2pcsl

— Dr. Ashwani Kumar (@DrAshwani_Kumar) July 6, 2020
#HappyBirthdayDhoni trends on Twitter as fans wish MS Dhoni on his 39th birthday – https://t.co/bqD21epOTc #MSDhoni

— Pinkvilla (@pinkvilla) July 6, 2020
As the famous saying goes, the future belongs to whose who believe in the beauty of their dreams. Dhoni showed us that it's possible to scale even the most unimaginable heights, if we are willing to do whatever it takes. Thanks for inspiring us Mahi.#HappyBirthdayDhoni @msdhoni pic.twitter.com/N93nasYt5l

— MS Dhoni Fans Official (@msdfansofficial) July 6, 2020