Negative interactions with police are all too familiar for many black coaches.
David Cox had spent part of the day hooping with some friends and now they've all just been hanging in the parking lot the way sometimes young people do. They had not violated any laws. They did not cause trouble. But it didn't deter any police from running up to them.
"They have not liked what they have seen," Cox said.
Cox, now Rhode Island's men's basketball coach, was perhaps 15 or 16 years old, a black teen hanging out with other black teenagers. And that's exactly what Cox said the police officers say they didn't like — they all put young black people together. And, things suddenly took a negative turn.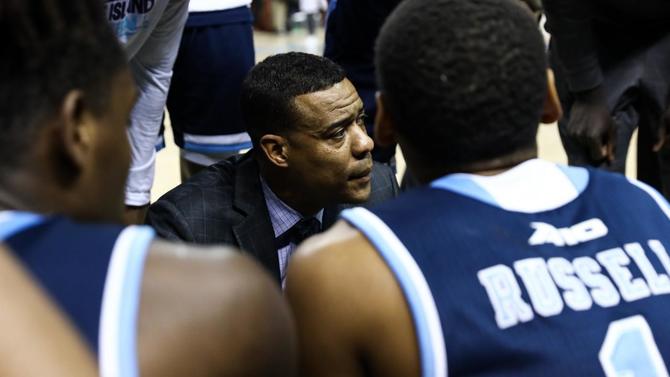 "They immediately started harassing us," Cox said. "They immediately threw us on the hood of the car. They started frisking us. They started cussing us. And that was my first real interaction with the police."
It's been a week since George Floyd, a 46-year-old black man, died in Minneapolis after an eight-minute and 46-second white police officer held his knee on Floyd 's neck. Derek Chauvin, the cop, was arrested, held, and charged with murder. The video of the incident, recorded by the onlookers concerned, has circulated widely and sparked outrage and protests in most major American cities.

This, of course, is not the first time we've seen a video of a black man, woman, or child being killed by a law enforcement official. There's also a video of Eric Garner. And Alton Sterling. And Philando Castile. And Tamir Rice. Sadly, the list is too long. And yet, undeniably, the killing of George Floyd has registered differently.
This George Floyd issue has triggered my anxiety disorder. In May 2005, I was driving through my old neighborhood in my truck (which had tented windows) and Raymond Felton was a passenger. In my rearview, i notice a cop following me. I'm on the phone with my mom & she says"Cont'd

— LeVelle Moton (@LeVelleMoton) May 28, 2020
North Carolina Central Trainer LeVelle Moton on Twitter last week told one of his tales. This weekend I was reaching out to Tulsa coach Frank Haith. He then sent me a connexion to a short film about Sean Bell, an unarmed back-man who was killed in New York after police in November 2006 shot 50 bullets at him and his friends.
"It was my nephew Sean," Haith said.
We discussed how his mother started speaking to him about how to interact with police officers when he was about 6 years old and has never stopped because, Cox said, that's a conversation "all black mothers have with their black boys."
Y'all killed Freddie Gray https://t.co/s2frnQfpbz

— George M Johnson (@IamGMJohnson) June 4, 2020
We discussed the frustration that comes with watching nobody being held responsible for the killing of black Americans time and time again. And, yes, we discussed the many prominent white basketball coaches — John Calipari, Tom Izzo, Bob Huggins, Mark Few, etc., — who are now speaking out on the issue of racial inequality in numbers never before seen. Cox expressed gratitude for them and called it a "great step." But he emphasized it cannot be where the conversation stops.