UConn is No. 2 just behind the Gamecocks.
Most of NCAA's most thrilling women's basketball seasons in recent memory has been forced to come to an abrupt end in March because of the COVID-19 pandemic. Since then, we have seen three Oregon Ducks selected in the top eight of the WNBA Draft with 75 percent of the top eight selections in the draught coming from the three colleges that many people thought had the greatest chance of winning the national championship:
Some of the country's top recruits in the 2021 class have announced their commitments recently and meanwhile, the transfer portal is, well, let's just say it's active. Graduate transfers have gone from mid-major programs where they were stars to major programs where they may just be the missing piece to a championship.
The 2020-2021 season is still just over six months away, but the excitement is growing with each passing day. As rosters continue to be filled, it's never too early to look at the top 5 teams heading into next season.
1) South Carolina
This isn't as much of a landslide, unanimous No. 1 as many might think, but Dawn Staley and the Gamecocks are clearly the best teams entering next season.
They lose some terrific players in Mikiah Herbert Harrigan and Tyasha Harris to the WNBA, but return three starters in Zia Cooke, Brea Beal and Aliyah Boston — all sophomores. Boston may be the best post player in the country and we have only seen the beginning of what Cooke and Beal can do.
2) UConn
The early departure of Megan Walker to the WNBA hurts, but Tennessee transfer Evina Westbrook, who sat out this past season, will be back and ready to go for Geno Auriemma and the Huskies. Olivia Nelson-Ododa, Anna Makurat, and Cristyn Williams are returning starters, while Aubrey Griffin, who showed flashes of brilliance last season, also returns. Along with Bueckers, Auriemma also adds dynamic wing Aaliyah Edwards and another strong guard in Mir McLean–two other top-25 recruits.
Also, UConn is in the mix for DiJonai Carrington, a 5-foot-11 graduate transfer from Stanford. If Carrington, who missed all but five games last season, is healthy, the Huskies have a good case for the preseason No. 1 spot. This is a Final Four team on Day One already.
3) Stanford
At this point, Stanford and UConn are the only teams that can challenge South Carolina for the top spot. Stanford was consistently good this past season, but couldn't match-up with Oregon. Next year, the Cardinal will be the favorite in the Pac-12. Kiana Williams is a star and both Haley Jones and Maya Dodson.
Lexie Hull can light it up from behind the arc and their frontcourt, while young, is formidable with sophomore returners Francesca Belibi and Ashten Prechtel.
4) Arizona
Aari McDonald is back, as coach Adia Barnes is set for one of the most exciting seasons in recent memory in Tuscon, Arizona. McDonald will bring her 20.3 ppg average, while being one of the country's best defenders, back to the court for Arizona, as double-digit scorer Cate Reese also returns.
5) NC State
This Wolfpack team is going to be tough. Coach Wes Moore will bring back four starters led by Elisa Culnane, who was just shy of averaging a double-double last season at 16.4 ppg and 9.6 RPG. The Wolfpack also return rising seniors, Kayla Jones and Kai Crutchfield, to go along with rising sophomore Jakia Brown-Turner.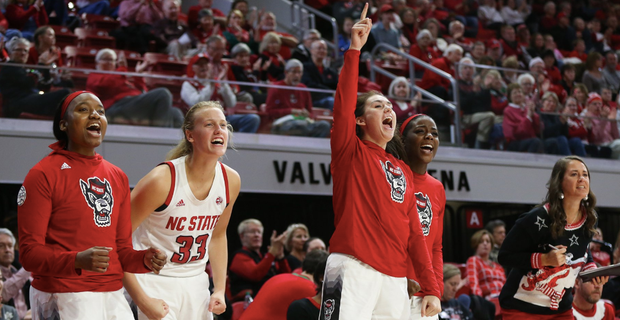 They will have some tremendous experience in Cunane, Jones, and Crutchfield, especially coming off of a season in which they won the ACC Championship and would've likely been a No. 2 seed in the NCAA Tournament.
Here are some more who are in the list and deserve honorable mentioned to be in the top rankings include: Mississippi State, Louisville, Oregon, Kentucky Iowa StateNotre Dame Arkansas, Texas A&MOregon, StateNorth Carolina, Princeton, and Indiana